About GPS
PATIENT MANAGEMENT SYSTEM, MEDICAL RECORDS MANAGEMENT & CONCIERGE MANAGEMENT TECHNOLOGY FOR MEDICAL TOURISM
A platform to manage patients who travel for care (domestic or international)
The Global Patient System® (GPS) is a HIPAA-compliant patient management system and process automation system built specifically to manage patients who travel for care. GPS is ideal for hospitals/providers, governments, facilitators, insurance companies and self-funded employers. It is cloud-based, allowing easy access from anywhere using any browser, and requires no programs to be installed on your computers and no investment in specialized hardware.
FULL FEATURED PLATFORM
GPS provides lead management, business process management, work flow automation, patient management system, quote generation, business collaboration (management of a provider network), collection of medical records, medical records management, notes, reminders and escalations, and a host of other features. Unlike off-the-shelf CRM or ERP products which are built for sales, GPS is service oriented, and is built specifically to manage the unique needs and nuances of patients who travel for care. Our technology allows you to stay in compliance with the stringent security and privacy regulations covering protected health information, ensuring that reasonable safeguards are applied to protect patient information from inappropriate use or disclosure.
GPS does not replace your HIS, EMR or other internal system. It supplements your primary system by providing functionality to fill the gaps that your primary system lacks. It allows you to automate the components of the medical travel care continuum, such as the initial interactions with the patient, collection of medical records, medical records management, capturing of concierge needs, telemedicine with the patient, collaboration with providers/doctors/other service providers, and aftercare coordination with the primary physician.
BUSINESS COLLABORATION – MANAGE NETWORKS/PARTNERS
GPS allows you to use a single system to track the life cycle of each case, giving your patients and institutional/government buyers the assurance that each stage of the process will be tracked and managed efficiently. Its unique design allows you to create your own ecosystem to collaborate with your partners (referrers, service providers, travel partners, etc.) by giving them secure, individualized access to the centralized system. The patient portal provides transparency and secure interactions, empowering the patient, strengthening the overall relationship and improving the total patient experience.
PROCESS AUTOMATION
Organizations, including hospitals, clusters, insurance companies, and other service providers often lack the tools and technology required to manage their medical travel business. Many use excel spreadsheets, manila or Sharefile folders, off-the-shelf CRM products, non-encrypted emails or insecure email channels like Gmail/Yahoo to share protected health information, which ultimately translate to higher staff costs, lost potential, lower productivity, mediocre patient experiences, and overall lack of growth and revenue. A sound business strategy can fall flat on its face if there is no infrastructure to support it. The Global Patient System is designed specifically for this specialized niche business, and will allow you to streamline your operations and optimize internal efficiencies, while increasing patient conversions, improving patient experiences, and achieving profitable growth.
SYSTEM HIGHLIGHTS
Integrated, comprehensive, end-to-end system
Cloud-based with easy access from anywhere with no infrastructure investment requirements
Compliant and Secure: HIPAA compliant and Privacy Shield certified
CRM capabilities to allow management of the patient from inquiry to aftercare
Process-automation with customizable workflows
Role-based access and granular access controls for each participant
Escalations and alerts to monitor every stage of the patient's process through the system
Secure communication through encrypted portals
Call scripts and Email templates for consistent patient communication
Patient case management with notes, quotes, appointments, treatment plans and travel documents
Medical Records management, including MRIs, which can be shared with hospitals and doctors through secure access
Patient portal for a single point of dissemination of information
Involvement of the referring/primary care physician to promote continuum of care
Video-conferencing between patient, referring doctor and treating doctor
Comprehensive real-time reporting suite
Mobile app for easy patient access from anywhere, including uploading pictures of medical documents
WE HOLD 5 US TECHNOLOGY PATENTS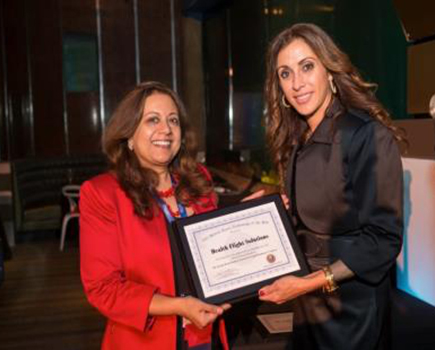 Recipient of
MEDICAL TOURISM TECHNOLOGY AWARD